Sold for
Regular price
$0
USD
Sale price
$2,500
USD
Unit price
per
Shipping Details

eMedals offers rapid domestic and international shipping. Orders received prior to 12:00pm (EST) will be shipped on the same business day.* Orders placed on Canadian Federal holidays will be dispatched the subsequent business day. Courier tracking numbers are provided for all shipments. All items purchased from eMedals can be returned for a full monetary refund or merchandise credit, providing the criteria presented in our Terms & Conditions are met. *Please note that the addition of a COA may impact dispatch time.
Description

Of historical importance is the appointment document and large seal awarded to 

Diplomat Edward 

Goschen who was the 

ambassador at the Prussian Court 1910. Signed George V, parchment, with large 

seal of state in brass cover in case of issue. 

Goschen is of particular importance in history as he handed over the declaration of war to the German Chancellor in 1914. 

 

 Appointment document with the signature of King George V at the upper left, inscribed "George by the Grace of God, of the United Kingdom of Great Britain and Ireland and of the British Dominions beyond the Seas King, Defender of the Faith, Emperor of India. &c. &c. &c. / To all and Singular to whom these Presents shall come, Greeting! / Whereas for the better treating of and arranging any matters which are now in discussion, or which may come into discussion, between Us and Our Good Brother and dear Cousin the German Emperor, King of Prussia, We have judged it expedient to invest a fit person with Full Power to conduct negotiations on Our Part. Know Ye therefore that We, reposing especial trust and confidence in the wisdom, loyalty, diligence and circumspection of Our Right Trusty and Well-beloved Councillor Sir William Edward 

Goschen

, G.C.M.G., G.C.V.O., Our Ambassador Extraordinary and Plenipotentiary to Our said Good Brother and dear Cousin, have named, made, constituted and appointed as We do by these Presents name, make, constitute, and appoint him Our Undoubted Commissioner, Procurator and Plenipotentiary: Giving to him all manner of power and authority, to treat, adjust, and conclude, with such Minister or Ministers as may be vested with similar power and authority on the part of Our Good Brother and dear Cousin the German Emperor, King of Prussia, any Treaty, Convention, or Agreement between Us and Our said Good Brother and dear Cousin, and to sign for Us and in Our Name, everything so agreed upon and concluded, and to do and transact all such other matters as may appertain thereto, in as ample manner and form, and with equal force and efficacy as We Ourselves could do if personally present: Engaging and Promising upon Our Royal Word that whatever things shall be so transacted and concluded by Our said Commissioner, Procurator, and Plenipotentiary shall, subject if necessary to Our Ratification, be agreed to, acknowledged, and accepted by Us in the fullest manner and that We will never suffer; either in the whole or in part, any person whatsoever to infringe the same, or act contrary thereto, as far as it lies in Our power. In witness whereof We have caused the Great Seal of Our United Kingdom of Great Britain and Ireland to be affixed to these Presents which We have signed with Our Royal Hand. Given at Our Court of Saint James the first day of June in the year of Our Lord one thousand nine hundred and ten and in the first year of Our Reign.", printed in black ink on a moisture-resistant white parchment, with the appropriate personalizations in handwritten black ink, 410 mm x 520 mm. The document accompanied by a large seal in metal with a thin coating of red wax, obverse illustrating a crowned King Edward VII in royal robes sitting upon the throne, a sceptre in his right hand the sovereign's orb sitting on the left arm of the throne and cupped by his left hand, a left-facing standing Britannia in flowing robes at the left, holding a three-masted sailing ship in her arms and a globe at her feet, a right-facing standing Justice with a blindfold over her eyes, a sword resting upon her right arm and holding the scales of justice in her left hand, a winged St. Michael with a large downward-pointing sword standing on a pedestal at the left behind the King's right shoulder, St. George in armour, bearing a standard in right hand and his left hand resting upon a shield bearing his cross, standing on a pedestal at the right behind the King's left shoulder, surrounded by the Latin inscription "EDWARDVS VII D:G: BRITT: ET TERRARVM TRANSMAR: QVAE IN DIT: SVNT BRIT: REX F:D:IND:IMP:", reverse illustrating a right-facing crowned King Edward VII in royal robes upon a horse, the Royal coat-of-arms to the left of the King, the arms framed by a ribbon banner inscribed "HONI SOIT QVI MAL Y PENSE" (May He Be Shamed Who Thinks Badly Of It), a three-masted sailing ship and a steamship appearing in the background under the horse, a ribbon banner inscribed in French "DIEV ET MON DROIT" (God and My Right) and framed by ornate framework incorporating roses, thistles and shamrocks above, upward-pointing trident below the horse, flanked by a flowing ribbon banner at the lower left inscribed "CANADA / WEST INDIES / NEWFOUNDLAND / BRITISH AFRICA / GIBRALTAR" and a flowing ribbon banner at the lower right inscribed "MALTA / INDIA / EASTERN COLONIES / AUSTRALIA / NEW ZEALAND", both ribbon banners interlaced with branches of oak leaves and acorns, a cord in fine silvered bullion wire and maroon embroidery passing through the top and bottom of the seal in two strands, the cord sealed in place with red wax where it exits the seal in both locations, the two strands of the cord exiting the seal at the top fed through a two die holes at the base of the document and tied in a knot, each of the two strands of the cord exiting the seal at the bottom finished with tassels, each with wooden-framed stems covered in fine maroon embroidery and wrapped in a fine silvered bullion wire mesh, two rings of rolled silvered bullion wire at its base, the tassels in multiple strands of maroon embroidery surrounded by strands of twisted silvered bullion wire, the seal measuring 160 mm in diameter, exhibiting flaking and chipping evident in two locations on the raised rim on the obverse and in one location on the reverse. The seal is secured in place inside a circular copper container, bearing the die-stamped Royal coat-of-arms on the cover, the outer edge trimmed in a repeating motif of oak leaves and acorns, maker stamped "R & S. GARRARD & Co HAYMARKET. LONDON" on the bottom, the last "o" of "Co" and the "N" of "LONDON" double stamped, hinged along the back edge, both sides with a slot incorporated to allow for the insertion of the cords at either end of the seal, two 12 mm thick soft off-white independent circular pressed cotton pads inside the container, to be placed above and below the seal in order to protect it, the copper container measuring 178 mm in diameter x 45 mm in height. In a wooden-framed case with a bluish-green pebbled fabric cover, maker marked "WISHWAR & CO. JERMYN ST W." on the front lip of the base, maroon felt lined in the inside lid, recessed medal bed lined in a soft white felt, swing hook closure, dual hinged, the case measuring 225 mm x 300 mm x 72 mm in height, exhibiting scuffing and wear on the exterior. Near extremely fine.

Footnote: Sir William Edward 

Goschen

, 1st Baronet GCB GCMG GCVO PC (July 18, 1847 - May 20, 1924) was a British diplomat. He was born at Eltham, England, the twelfth child and sixth son of Wilhelm Heinrich 

Göschen

, originally of Leipzig, Saxony, and Henrietta Ohmann, who was born in London. At the time of his birth his father was 54. The Liberal Unionist politician Lord 

Goschen

 was 

Goschen

's elder brother. He was educated at Rugby and Corpus Christi College, Oxford and twice represented Oxford at real tennis, played five matches of first-class cricket as a right-handed batsman for the University of Oxford and throughout his life was a keen sportsman. 

Goschen

 entered the Diplomatic Service in 1869 and after an initial few months at the Foreign Office he served in Madrid, as Third Secretary in Buenos Aires, Paris, Rio de Janeiro, Constantinople, Peking, Copenhagen as secretary to the legation (1888-1890), Lisbon as secretary to the legation, Washington (1893-1894) as secretary and Saint Petersburg (1895-1898). 

Goschen

 was offered the Belgrade legation and took up post in Serbia in September 1899. He was later to recall that his only instructions from the Foreign Secretary Lord Salisbury was to "keep [an] eye [on] King Milan". He remained in Serbia until 1900. According to 

Goschen

 himself he was initially less than happy to be offered the Copenhagen Legation. "Oh dear, oh dear! I am not thrilled and later accepted but with misgivings". He served as Minister to Denmark from 1900 until 1905 and although recognizing the posting as something of a diplomatic backwater, he at least revelled in the social aspects of his position. 

Goschen

's appointment as Ambassador to Austria-Hungary was seemingly made at the behest of King Edward VII. 

Goschen

 most probably expected the Vienna posting to be his last but the imminent retirement of Sir Frank Lascelles at the Berlin embassy posed problems for the Foreign Secretary. Finding a successor for Lascelles was not easy. Berlin made it clear that Sir Arthur Nicolson would be unacceptable as the successor and although the Permanent Under-Secretary for Foreign Affairs, Charles Hardinge, had initially favoured Fairfax Cartwright, the Minister at Munich, he was in his turn, vetoed by the Germans, who wanted a public figure. Eventually a reluctant Kaiser was persuaded to accept 

Goschen

. In 

Goschen

's last conversation with the German Chancellor Theobald von Bethmann-Hollweg before asking for his passports, on August 4, 1914, Bethmann famously expressed his astonishment that England would go to war for "a scrap of paper" (the 1839 treaty guaranteeing Belgium's neutrality). During the First World War, 

Goschen

 established a relief fund for British citizens still living in Germany who had lost their means of income and for British Prisoners of War being held prisoner in Germany. The fund was primarily administered through the United States Consular Service (now the United States Foreign Service). 

Goschen

 was the recipient of four British decorations: Knight Grand Cross of the Order of the Bath in 1911 (GCB); Knight Grand Cross of the Order of St Michael and St George in 1909 (GCMG); Knight Commander of the Order of St Michael and St George on September 13, 1901 during a private visit to Denmark by King Edward VII and Queen Alexandra (KCMG); and Knight Grand Cross of the Royal Victorian Order in 1904 (GCVO). 

Goschen

 was admitted to the Privy Council in 1905 and was created a Baronet, of Beacon Lodge, Highcliffe, in the County of Southampton, in 1916. He was the recipient of three foreign decorations: Denmark: Grand Cross of the Order of Dannebrog; Austrian Empire: Grand Cross of the Order of Leopold; and Prussia: Grand Cross of the Order of the Red Eagle. In his personal life, 

Goschen

 married Harriet Hosta Clarke, an American from Michigan, in 1874. They had two sons, Edward Henry 

Goschen

 born in 1877 and George Gerard 

Goschen

 born in 1887. Lady 

Goschen

 died in February 1912. In later life, he became an enthusiastic, if untalented, violinist. He noted in his diary that he played duets with the German Crown Prince in 1910. 

Goschen

 died in Chelsea, London, on May 24, 1924, at the age of 76, and was succeeded in his title by his eldest son, Edward Henry 

Goschen

. In regards to this document being signed by King George V and the seal bearing the images of King Edward VII, the discrepancy is easily explained. King Edward VII died on May 6, 1910. His son, the Prince of Wales, succeeded his father as king, as King George V and signed this document twenty-six days after the death of King Edward VII, on June 1st, therefore, not allowing time for a new seal to be constructed and issued with the image of the new king incorporated.

 
View full details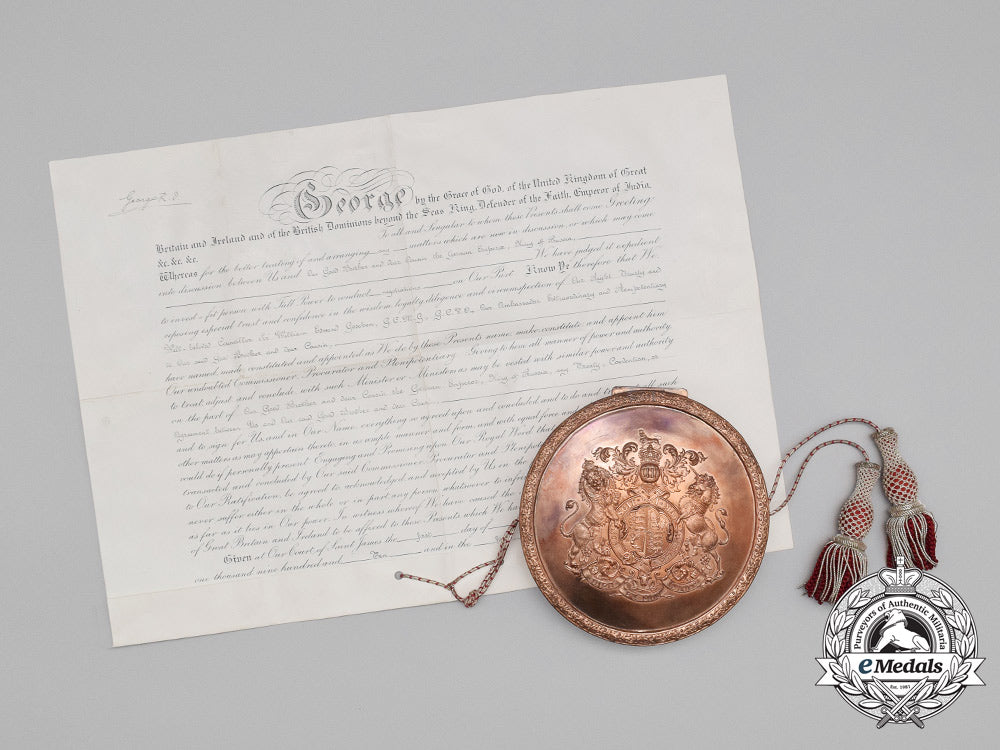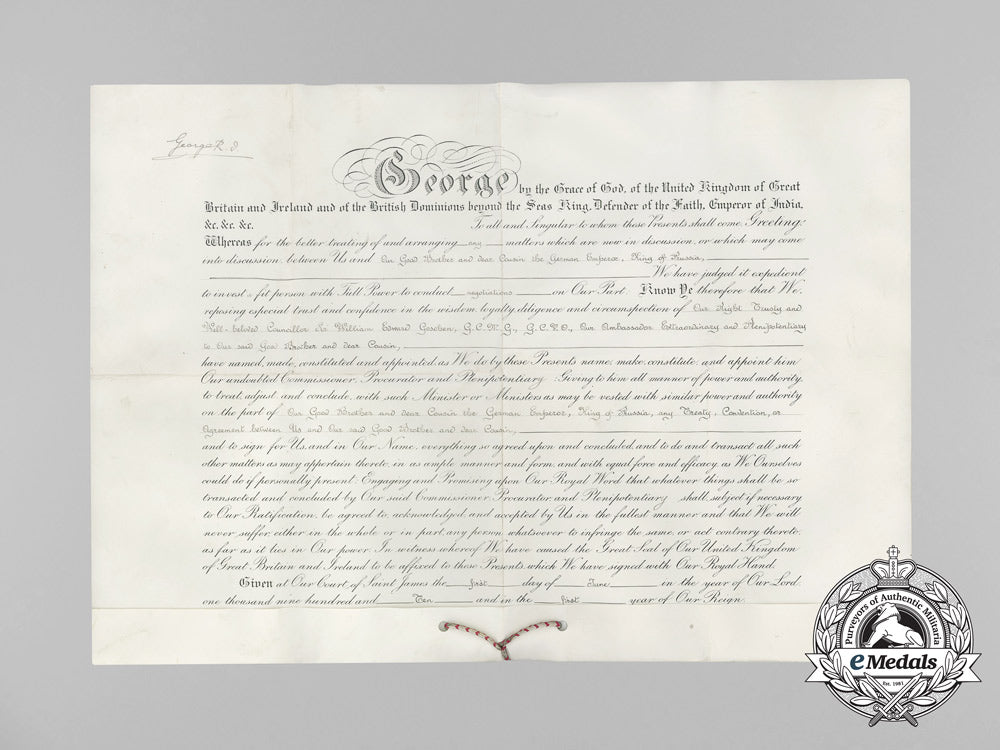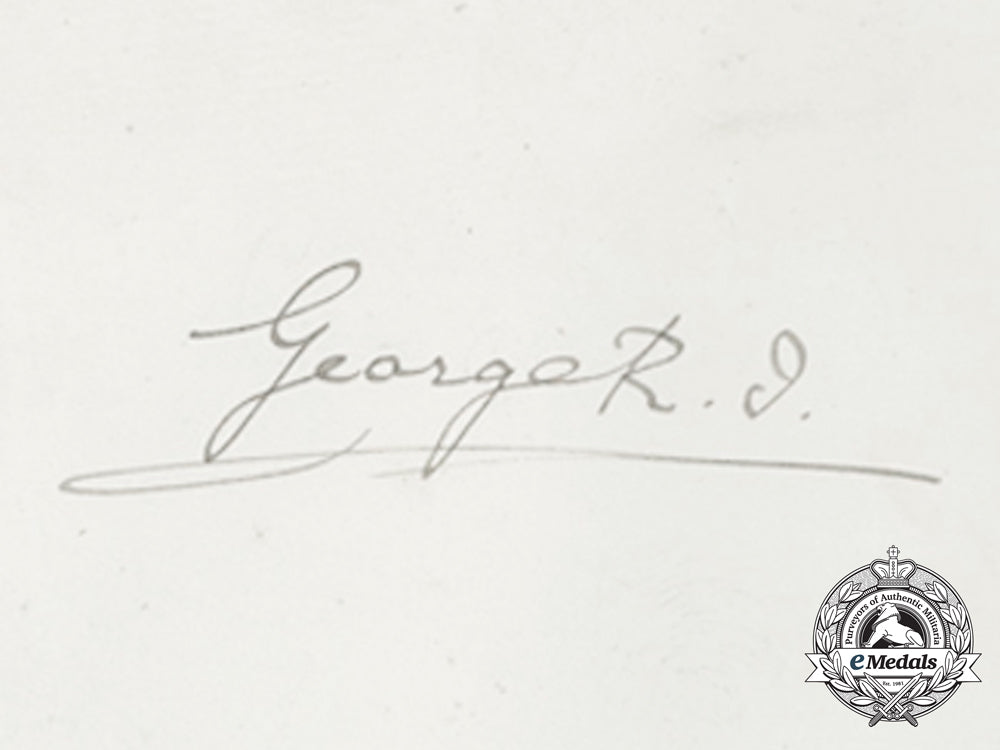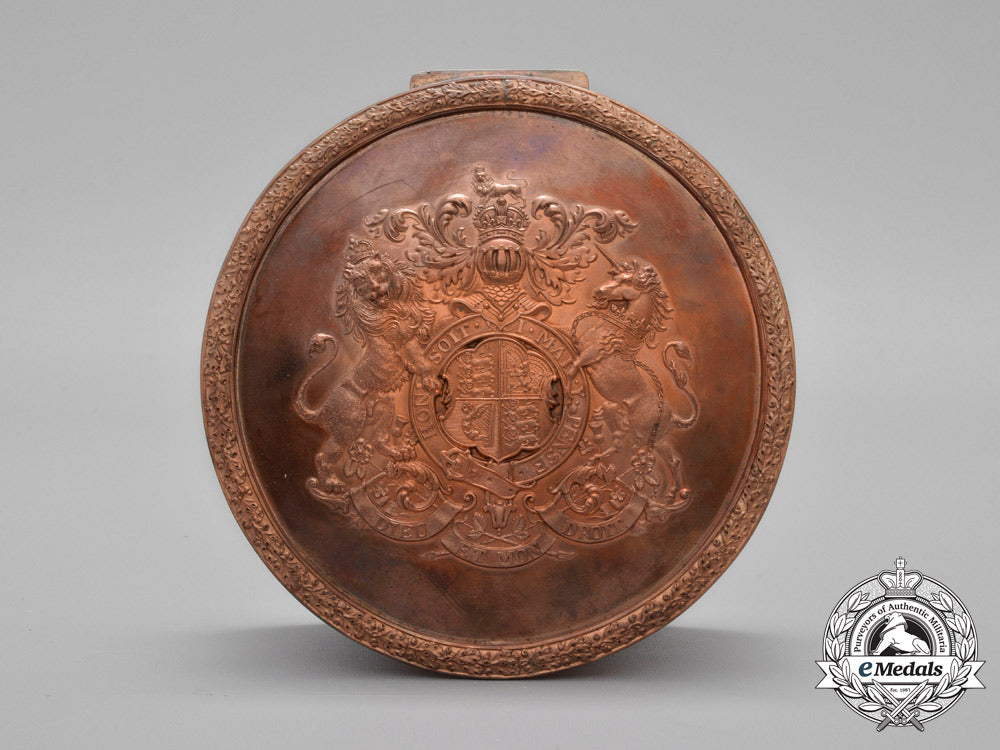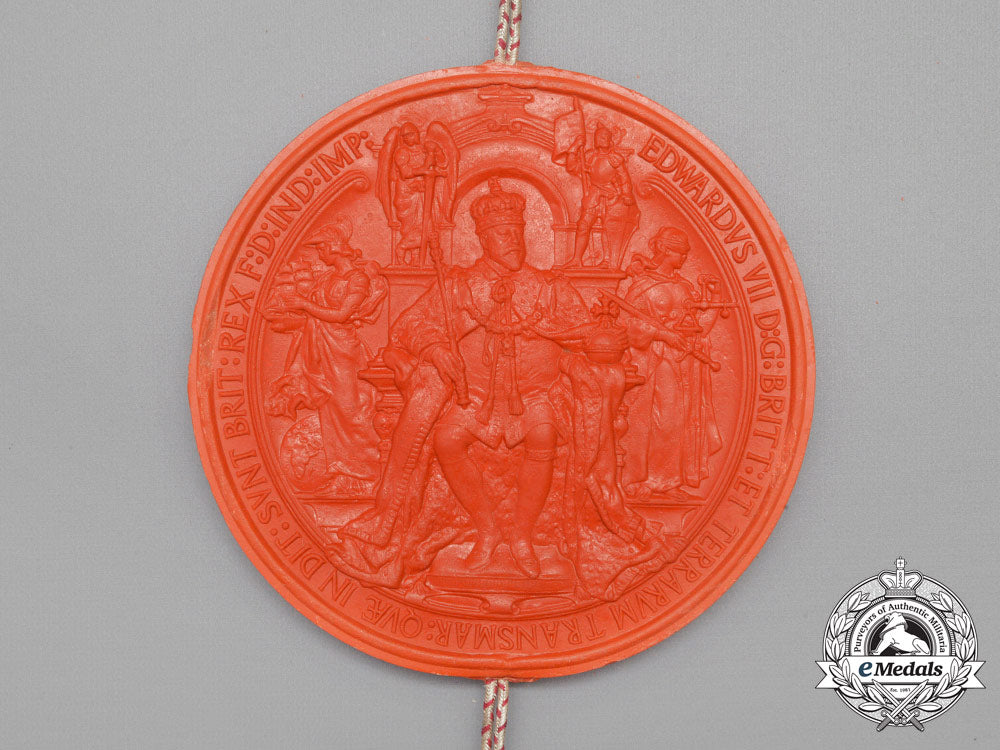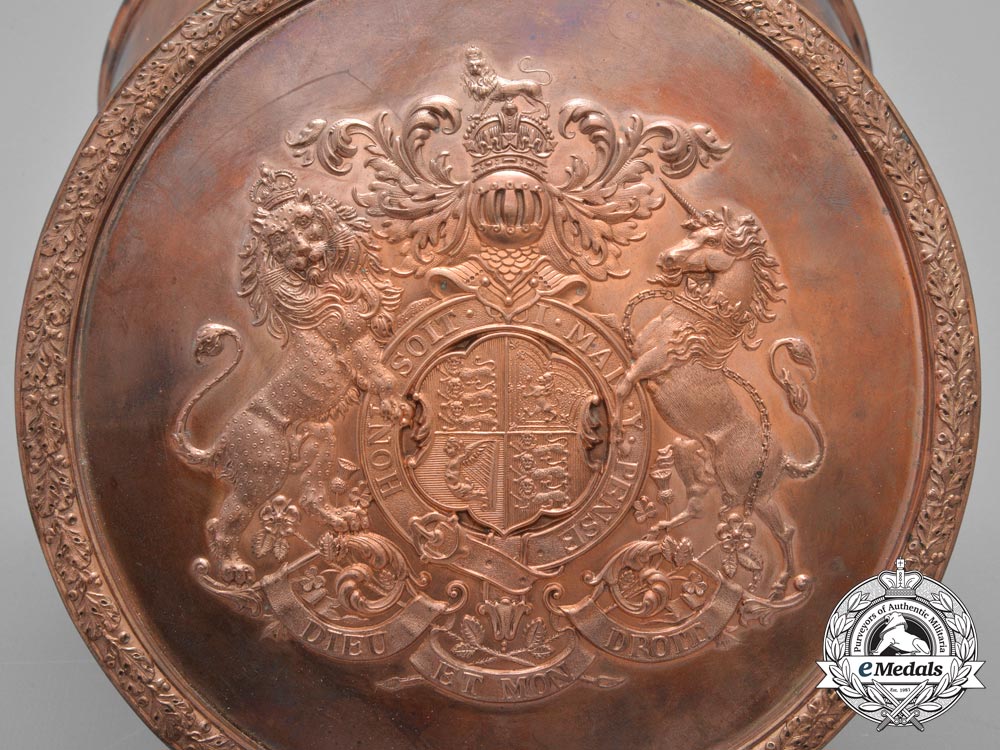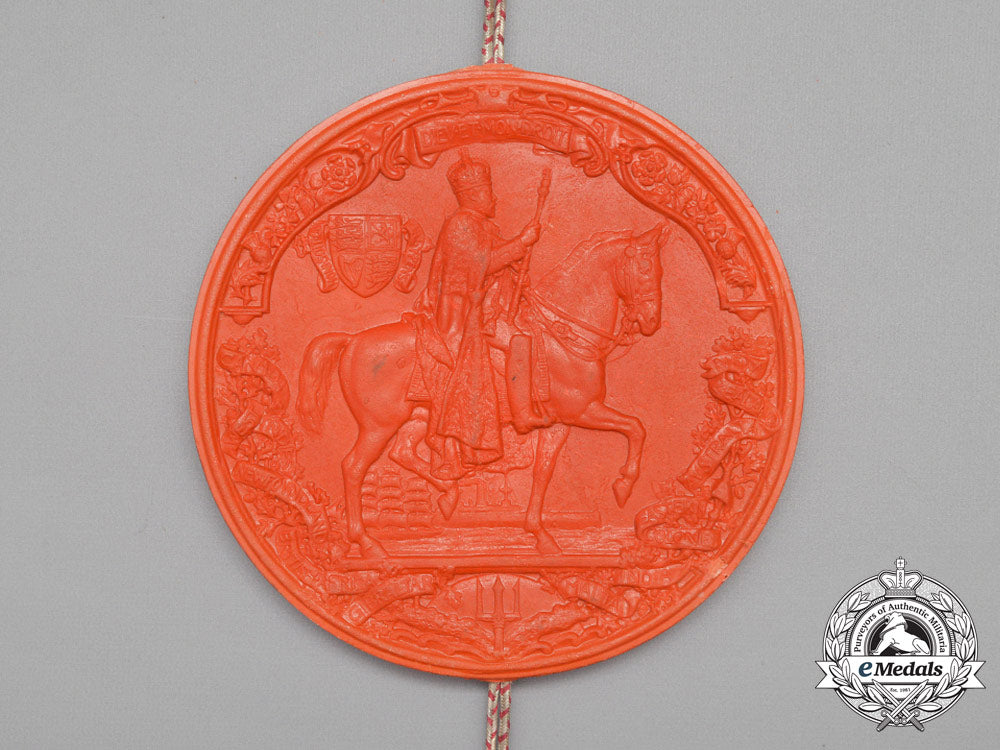 Choosing a selection results in a full page refresh.
Opens in a new window.