Sold for
Regular price
$0
USD
Sale price
$600
USD
Unit price
per
Shipping Details

eMedals offers rapid domestic and international shipping. Orders received prior to 12:00pm (EST) will be shipped on the same business day.* Orders placed on Canadian Federal holidays will be dispatched the subsequent business day. Courier tracking numbers are provided for all shipments. All items purchased from eMedals can be returned for a full monetary refund or merchandise credit, providing the criteria presented in our Terms & Conditions are met. *Please note that the addition of a COA may impact dispatch time.
Description

The Awards of Lieutenant Sutcliffe - Fullsize Group: 1914-15 Star (2405 PTE. J. SUTCLIFFE, W.RID.R.); British War Medal (LIEUT. J.E. SUTCLIFFE.); Victory Medal (LIEUT. J.E. SUTCLIFFE.); India General Service Medal 190-1935, 1 Clasp - AFGHANISTAN N.W.F. 1919 (LIEUT. J.E. SUTCLIFFE.); 1939-1945 Star; France and Germany Star; Defence Medal; Canadian Volunteer Service Medal with Overseas Clasp; and War Medal 1939-1945. Naming is officially impressed on the WWI Trio and officially re-impressed on the IGSM. Mounted to a suspension with swing bar pinback, as worn by the veteran, edge nicks on the VM, better than very fine. Miniature Group: 1914-15 Star (bronze, 24.5 mm x 29 mm); British War Medal (silver, 17.8 mm); Victory Medal (bronze, 18.6 mm); India General Service Medal, 1 Clasp - AFGHANISTAN N.W.F. 1919 (silver, 17.8 mm); 1939-1945 Star (bronze, 17.5 mm x 19.5 mm); France and Germany Star (bronze, 17.5 mm x 19.5 mm); Defence Medal (silver, 18 mm); Canadian Volunteer Service Medal with Overseas Clasp (silver, 18.3 mm); and War Medal 1939-1945 (silver, 18 mm), mounted to a suspension with swing bar pinback, as worn by the veteran, dark patinas on three of the silver medals, also better than very fine. Accompanied by copies of his WWI Trio Award Index Card, WWII Service Records and Medical Records, Department of Veterans Affairs Death Notification, and citations from the London and Canada Gazettes, along with a black and white Canadian Army file photograph of Sutcliffe (102 mm x 151 mm).Footnote: James Edward Sutcliffe was born on September 20, 1896 in Glascock, Texas of British parents. His mother is documented as Kate Sutcliffe, of The Gardens, Charlecote, Warwickshire. He completed Grade 12 at Cartmel Grammar School in England and left school at the age of 17 to enlist. He began his army career on August 3, 1914, enlisting as a Private and volunteering for war service with the Duke of Wellington's West Riding Regiment during the Great War. He later attended an Officer's Course at Bristol University, spoke both English and Hindustani and served in both England and France during the war. He remained with the Duke of Wellington's West Riding Regiment until October 20, 1915, when he was transferred to the Machine Gun Corps the following day. As a Cadet, he was commissioned as a 2nd Lieutenant in the Machine Gun Corps (London Gazette 11256, on November 21, 1916), was present at the Battle of Vimy Ridge in April 1917 and remained with the Machine Gun Corps until August 20, 1918. Sutcliffe is documented as remaining seconded from August 10, 1917 (London Gazette 8116, on August 9, 1917) to A. Howarth, who was to be Captain with precedence from June 1, 1916. He was commissioned to be a Lieutenant on July 25, 1918 (London Gazette 3491, on March 14, 1919). At the tail end of the war, he was named a Captain with the 96th Berar Infantry in the Indian Army, beginning in August 1918 (London Gazette 8492, on July 19, 1918), for the next five plus years, ending in December 1923. He later married Norah Sutcliffe, resigning his commission and immigrated to Canada, taking a job as a Sales Representative (Commercial Agent), living with his uncle in Montreal, Quebec, before establishing a place of their own. In his civilian life, he was employed by I.G. Products in Montreal, as Ontario District Manager for ten years and by Smith & Nephew Co. of Hull, England, as Canadian Representative and Sales Manager for six years, selling Surgical Supplies. Upon the outbreak of World War II, Sutcliffe volunteered for service with the Canadian Army. He was commissioned as a Captain in The Queen's York Rangers on August 28, 1940. His commanding officers noted that he had a "high learning ability", that he had "considerable military experience, whose only son has inherited his father's military interests" and that he had the "ability to assume responsibilities". He was established as Company Commander, No. 20 Basic Training Centre in Brantford, Ontario until April 1941, after which he was elevated to the rank of Major on June 17, 1941. He later became Adjutant 2 1/c at the Basic Training Centre in Orillia, Ontario beginning in July 18, 1942 and is documented as having been attached to the Canadian School of Army Administration in Kemptville, Ontario, taking a course in Qualified Driver Class III from November 28 to December 22, 1942. In 1943, he was recommended by the Commanding Officer at No. 26 Basic Training Centre for the Canadian Efficiency Decoration. The same year, he applied for and was granted permission to go overseas with the Canadian Army due to his exemplary record and abilities. Sutcliffe embarked Canada on November 24, 1943, disembarking in the United Kingdom on December 1st. He attended a Civil Affairs Staff Course in the United Kingdom throughout December 1943 and proceeded to France with 1 British Corps, as Officer Commanding the 207th Civil Affairs Detachment on June 7, 1944, the day after D-Day, attached to the 51st Highland Division. He was in command of a spearhead Civil Affairs Unit liasoning with Canadian and American Headquarters and local underground forces. It was in this capacity that he and his 2nd in command, Captain B. Filardi of the United States Army, along with four others attacked a building holding sixty-four German troops. Major Sutcliffe was able to convince the Germans that they were being attacked by a much larger force and took all of them as prisoners of war. The details of the daring encounter were reported in the London Daily Mail on Monday, July 31. 1944: "Bluffing the Hun into thinking he was surrounded by a large British Force, a small "spearhead" Civil Affairs unit, comprising a Canadian Army major and five others, captured 64 German troops outside a village near Caen. "This little spearhead unit was in charge of Major J.E. Sutcliffe of the Canadian Army" said a senior officer. His second in command was Captain B Filardi, of the United States Army. When they reached the village concerned some Frenchmen told the major there were some German soldiers in a farm and a wood just outside the village. Although the villagers put the strength of the German Unit at nearly 100, Major Sutcliffe and his colleagues armed themselves with tommy-guns and revolvers and went to look for the enemy. While they were making their way stealthily towards the farm they saw a German soldier running into the building with a machine-gun. Sutcliffe deployed his little force in a semi-circle and told them to make as much noise as possible. "Make them think they're surrounded by a blooming regiment" he ordered. Regardless of that machine-gun and the odds they charged the enemy. The bluff had worked. The machine-gunner had abandoned his weapon and left the farm by the back door. Major Sutcliffe and his men turned their attention to the wood, but they had not gone far before the Germans led by an officer came to meet them with their hands up." The incident was also officially recorded in his service records. The two American officers in the patrol were both awarded the Silver Star but none was issued to Sutcliffe and although recommended for it, he was turned down by 21 Army Group Headquarters. In a correspondence from him to Field Marshall Sir Bernard Montgomery concerning the incident, dated June 4, 1945, he noted that he was recommended for the Military Cross after his participation at the Battle of Vimy Ridge in 1917 and after being wounded and evacuated, heard nothing more about it. He also attached a copy of the press report from the London Daily Mail, mentioning the incident with the German soldiers near Caen and the fact that he did not receive the Silver Star, as the two American soldiers had. He appealed to Montgomery's "sense of fairplay & justice", in order to right the two wrongs he perceived but it is unclear as to whether he received a response to the letter. Sutcliffe contracted sciatica while in Belgium. He attributed the acquisition of his illness to the United States Army Air Corps accidentally bombing his unit at Caen, France. He remained in France until he was evacuated to the United Kingdom in November 1944, with "physical signs of muscle spasm, limitation of movement in lower back possibly by early arthritic changes" (sciatica). He also had a history of Dyspepsia (impaired digestion) since birth. He returned to Canada on February 21, 1945. Once in Canada, he was placed at Military District No. 2 in Hamilton, Ontario, posted to No. 2 E.S.& W. Company, Royal Canadian Engineers Supply on April 20, 1945 and commanded the Hamilton-Niagara area Military District No. 2 from June 22, 1945 to January 30, 1946. Sutcliffe was struck off strength of the Canadian Army on February 8, 1946, credited with having served in Canada, the United Kingdom and Continental Europe and returned to Reserve Status. He ceased to be an Administrative Officer with the Cadet Instructors Cadre as of January 30, 1946 (Canada Gazette 3166), relinquishing his temporary rank of Major, transferred to the CRO on February 17, 1946 (Canada Gazette 4822) and was struck off strength of the CIC (Canada Gazette 3633, on June 8, 1946). Sutcliffe was released from the Canadian Army on September 20, 1957 and placed on the Retired List with the rank of Major. He died on November 3, 1971 in Toronto, Ontario, at the age of 75.
View full details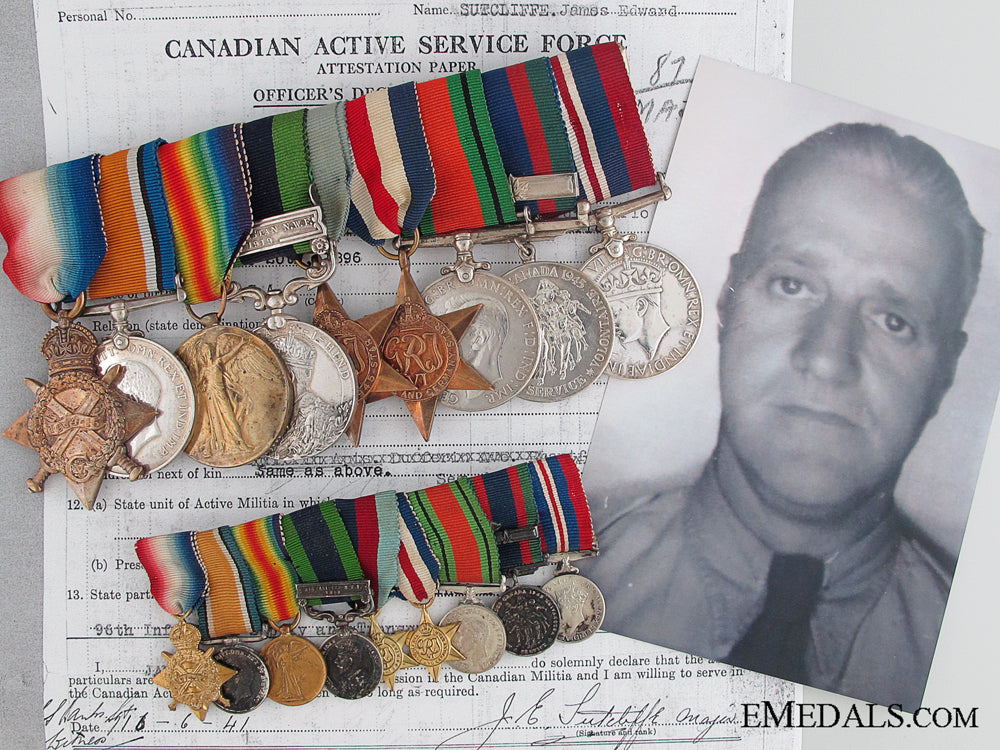 Choosing a selection results in a full page refresh.
Opens in a new window.