Sold for
Regular price
$32,500
USD
Regular price
$0
USD
Sale price
$32,500
USD
Unit price
per
Shipping Details

eMedals offers rapid domestic and international shipping. Orders received prior to 12:00pm (EST) will be shipped on the same business day.* Orders placed on Canadian Federal holidays will be dispatched the subsequent business day. Courier tracking numbers are provided for all shipments. All items purchased from eMedals can be returned for a full monetary refund or merchandise credit, providing the criteria presented in our Terms & Conditions are met. *Please note that the addition of a COA may impact dispatch time.
Description

An Honour Goblet Group to Leutnant Gisbert-Wilhelm Groos, Jagdstaffel 11 (AKA Jasta 11) of von Richthofen's "Flying Circus": In solid silver, measuring 19.5 cm in height, well marked "800" along with Imperial German hallmarks; bottom of the goblet marked "Chef des Feldflugwesens", with lovely old patina, no dents or scratches, just a very few light contact marks, stable on four hand soldered ball feet, in extremely fine condition.

Prussian Pilot's Badge with silvered obverse and reverse back plate in silver and marked "800" (silver), measuring 44.8 mm x 70.3 mm, with clear signs of period wear, remains better than very fine. Iron Cross 1st Class 1914 with silver frame, iron core, magnetic, maker marked "KO" (Königliches Münzamt Orden) on the reverse, 43 mm, flat type, very fine. Iron Cross 2nd Class 1914 (silver frame, with iron core, magnetic, maker marked "LV" and numbered "5" and "0" on the ring, 43.5 mm); and Hindenburg Cross for Combatants (iron with a bronze-coloured gilt, magnetic, maker marked "45 R.V. PFORZHEIM" (Reichsverband Arbeitsgemeinschaft Heinrich Vogt, Pforzheim) on the reverse, 38 mm). Mounted to a magnetic metal-framed trapezoid suspension with swing bar pinback, original ribbons, small patch of surface rust on the reverse of the HC. Wound Badge, Black Grade (In stamped iron, unmarked, 38 mm x 43 mm, vertical pinback, surface rust on the reverse).

Accompanied by his Honour Goblet Award Document (named to "Königlich Preussischen Leutnant Herrn Groos", dated May 27, 1917, "Der kommandierende General der Luftstreitkräfte" stamped, 220 mm x 297 mm); his Pilot's Badge Award Document (named to "Leutnant Groos, Armeeflugpark 10", dated November 13, 1916, "Stabsoffz. d. Fliegertr. d. X. Armee" stamped, 162 mm x 208 mm); his Iron Cross 1st Class Award Document (named to "Leutnant Wilhelm Gisbert Groos", dated June 26, 1917, "Oberkommando der 6 Armee" stamped, 210 mm x 312 mm); his Iron Cross 2nd Class Award Document (named to "Leutnant Wilhelm Groos", dated June 6, 1915, "K. Pr. Ulanen-Regiment" stamped, 172 mm x 202 mm); his Hindenburg Cross for Combatants Award Document (named to "Fabrikdirektor Wilhelm Groos in Köln - Bayenthal", dated May 20, 1935, numbered "54696/35", "Polizeipräsident in Köln" stamped, 148 mm x 210 mm); his Wound Badge, Black Grade Award Document (named to "Leutnant Groos, Jagdstaffelschule II O.H.L.", dated June 12, 1918, "Der kommandierende General der Luftstreitkräfte" stamped, 193 mm x 249 mm); his Deutches Reich Pilot's Licence "Flugzeugführerschein" (named to "Gisbert Wilhelm Groos", dated June 7, 1933, numbered "247", 36 mm x 45 mm black and white photo of Groos pasted in place on the first page, five "Preussisches Oberpräsidium der Rheinprovinz" stamps and one "Luftamt Köln" stamp, string-bound, 105 mm x 148 mm); his Flight Test Book "Flugprüfungsbuch" (named to "Wilhelm Gross", dated May 12, 1933, eight "Polizeipräsident in Köln" stamps, two "Preussen Staatliche Polizei" gummed stamps, with pasted-in insert dated May 17, 1933, string-bound, 107 mm x 160 mm); a Handwritten Note (dated March 17, 1917, "Flieger-Abteilung (A) Nr. 229" stamped, 85 mm x 104 mm); and a Letter Addressed to Frau Rosa Groos Kenzingen (from the Captain of Aufklärungsgruppe 15 2.(H) Staffel at Göppingen (Reconnaissance Group), dated May 24, 1938, acknowledging the death of her son and forwarding on the Leader's Badge, 208 mm x 295 mm).

Footnote: Wilhelm Gisbert-Wilhelm Groos was born on August 10, 1894, the son of Dr. jur. Dr.theol. Ernst Gisbert Karl Julius Georg Groos and Laura Maria Colsman. He first served as a Leutnant (Liuetenant) with Jagdstaffel 11 (AKA Jasta 4), before being transferred to Jagdstaffel 11 (AKA Jasta 11). The Jasta 11 was founded on September 28, 1916 upon the merging of KEK 3 , FA 9 , FA 13 and FA 5b and is known as the unit commanded by Baron Manfred von Richthofen, which was later commanded by his brother Lothar and his cousin Wolfram. On July 26, 1917, Jasta 11 became part of Jagdgeschwader 1, a collection of four Jastas into one administrative and highly mobile tactical force. Baron Manfred von Richthofen was promoted to command JG I, which was the second fighter wing in the history of military aviation. It was dubbed "Richthofen's Flying Circus", the most elite military unit of the air force and was named such because it mimicked a circus's logistics by using dedicated railway trains to transport it to forward airfields, and because of its vividly painted aircraft. Members of Jasta 11 included (with their victories in brackets): Cavalry Captain (Rittmeister) Manfred von Richthofen (80), First Lieutenant (Oberleutnant) Rudolf Lang, Lt. Kurt Wolff (33), Lt. Karl Schäfer (30), Lothar von Richthofen (40), Wilhelm Reinhard (20), Sebastian Festner (12), Erich Rüdiger von Wedel (13), Hans Joachim Wolff (9), Werner Voss (48), Willi Gabriel (11), Werner Steinhäuser (4), Karl Allmenröder (30), Eberhard Mohnicke (9), Wolfram von Richthofen (8), Gisbert-Wilhelm Groos (7), Erich Just (6), George Schiller (?), Friedrich T. Noltenius (21), Alfred Niederhoff (7), Hans-Georg von der Osten (5), Edgar Scholtz (6), Hans Weiss (16), Siegfried Gussmann (5), Otto Brauneck (3), Hermann Göring (22), Carl-August von Schoenebeck (3), Ernst Udet (3) and Richard Wenzl (1). Leutnant Gisbert-Wilhelm Groos is credited with seven victories. His first victory occurred while with Jasta 4 on May 19, 1917 at 2055, taking down a Sopwith Triplane (N5488) at Droucourt. His other six victories occurred while he was with Jasta 11, the first of which took place on June 24, 1917 at 0920, taking out a Sopwith Triplane (N6306) near Zonnebeke. On that day, No. 10 Squadron, Royal Naval Air Service (RNAS) had their first encounter with what the Allies came to call the "Flying Circus". While escorting two DH 4s of No. 57 Squadron on a photo-reconnaissance, they came under attack by twelve to fifteen brightly painted scouts. The Canadians, Lieutenant Collishaw and Lieutenant John Edward Sharman each claimed an Albatros D V. Von Richthofen was reported leading six Jasta 11 machines on that occasion, and he personally dispatched a DH 4 A3353, killing Captain Norman G. MacNaughton and Lieutenant Angus H. Mearns. Flight Sub-Lieutenant Alan B. Holcroft was captured after being wounded and Flight Sub-Lieutenant Robert G. Saunders was killed, both men falling victim to Leutnant Karl Allmenröder and Leutnant Gisbert-Wilhelm Groos. The third victory was achieved at Messines on July 2, 1917 at 1025, felling an R.E.8 (A3249) due to "his accurate fire". The fourth victory took place at Zillebeke Lake, with Groos eliminating a Sopwith Triplane (N6304) on August 16, 1917 at 1120, while his fifth victory occurred the next day at 0725 on the 17th, taking out a S.E.5 (A8903) west of Passchendaele. Six days later, on August 23rd at 0750, a Sopwith Camel (B3768) left the skies at the hands of Groos, south of Poelcapelle. Leutnant Groos briefly took over command of Jasta 11 on September 4, 1917, taking over from Leutnant Wilhelm Reihart, who had been injured and admitted to Bavarian Field Hospital 133 near Courtrai. He relinquished that command on September 11th to Leutnant Kurt Wolff, but became Commanding Officer four days later, as Wolff was killed in action, when his Fokker Dr. I crashed and burst into flames on the 15th near Moorslede, Belgium. Groos' tenure as Commanding Officer lasted ten days, when Leutnant Lothar von Richthofen, the Baron's brother, took command of the unit. His seventh and final victory took place a year later, on August 1, 1918, taking out a SPAD, the location not stated. After the war, Groos married Therese Opfergelt on August 1, 1924. He later took a second wife, marrying Liselotte Herbst, the couple having one son, Manfred Wilhelm Groos. He was to marry a third time, taking Ilse Schmelzer as his wife on July 29, 1938, the couple having one son, Ernst Gisbert Groos. Groos was past the age of 100 and the last surviving member of Jasta 11, when he passed away in 1997 near Cologne/Bonn.
View full details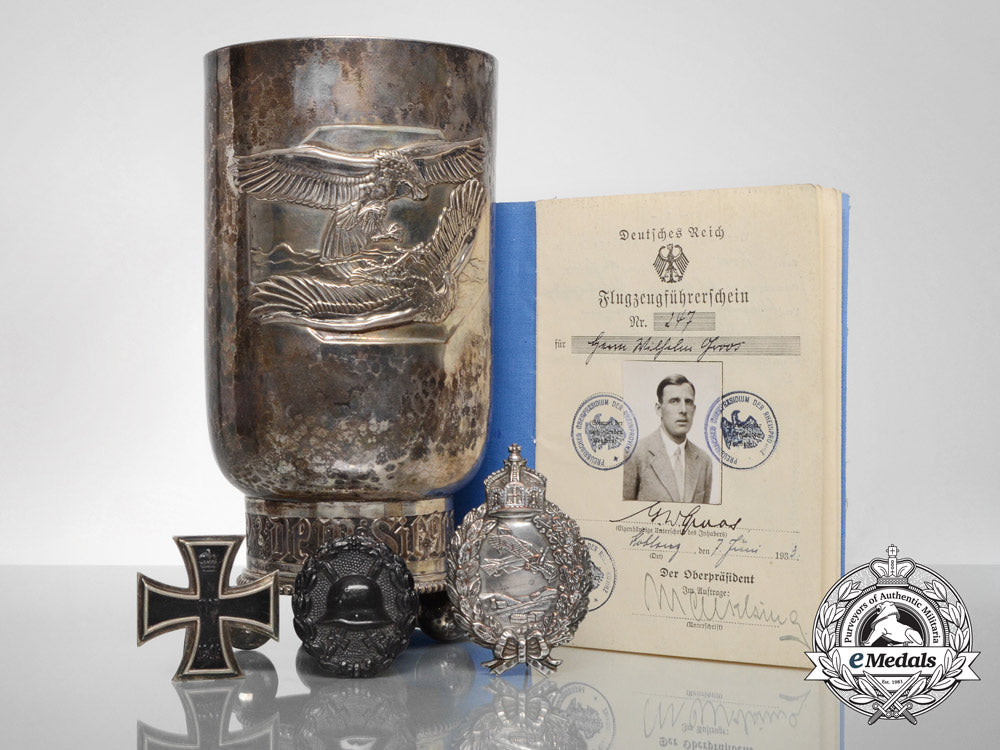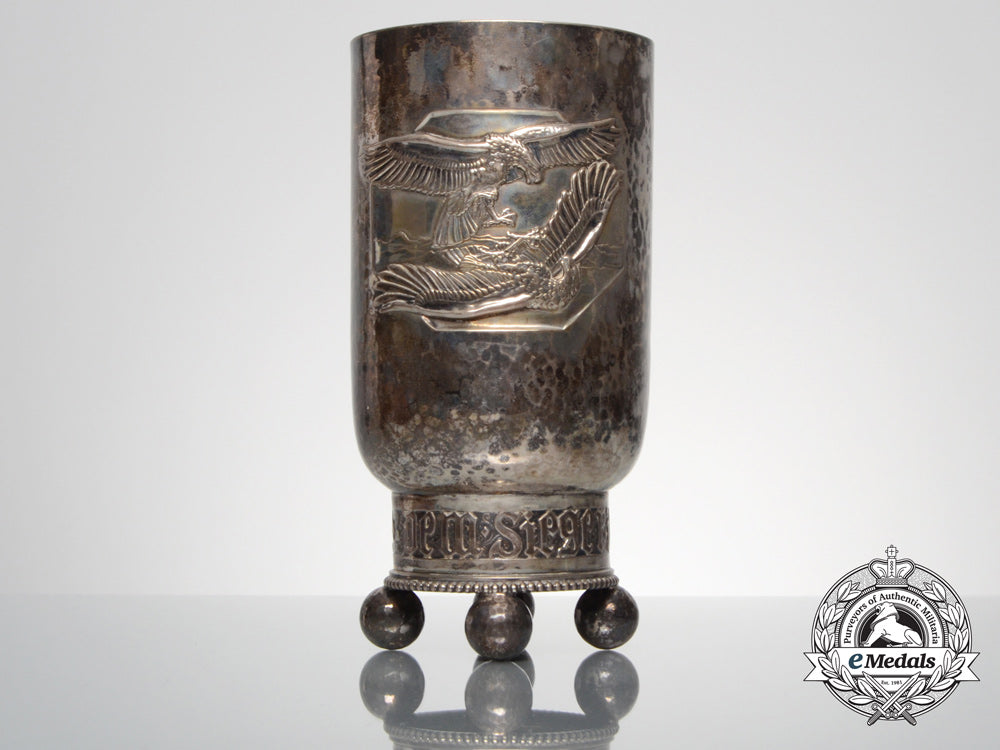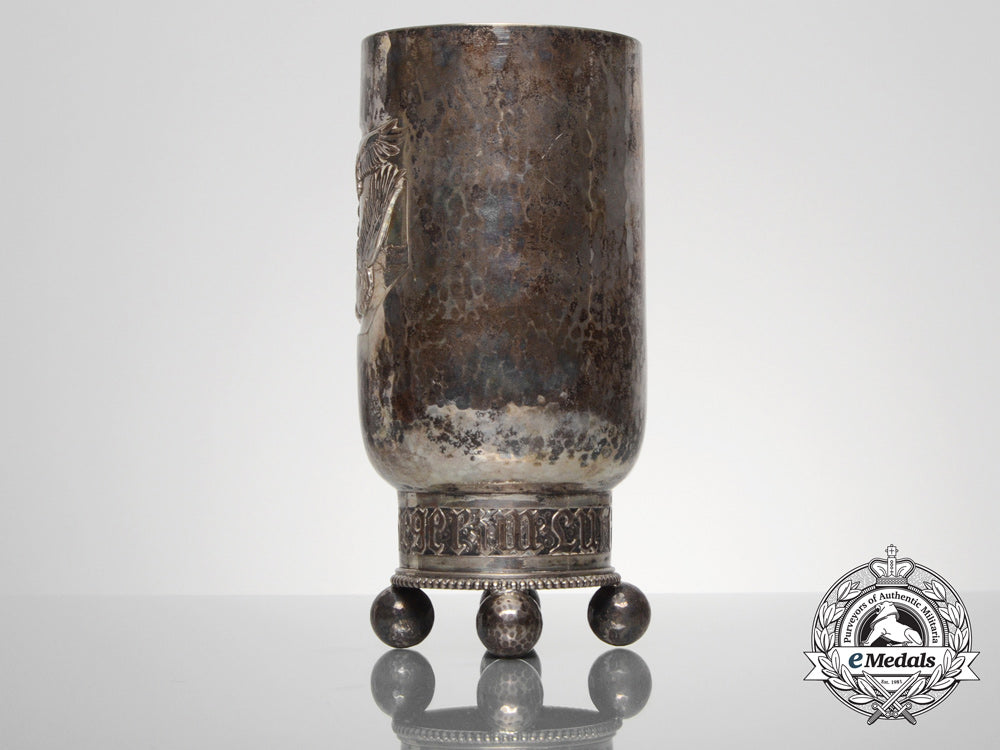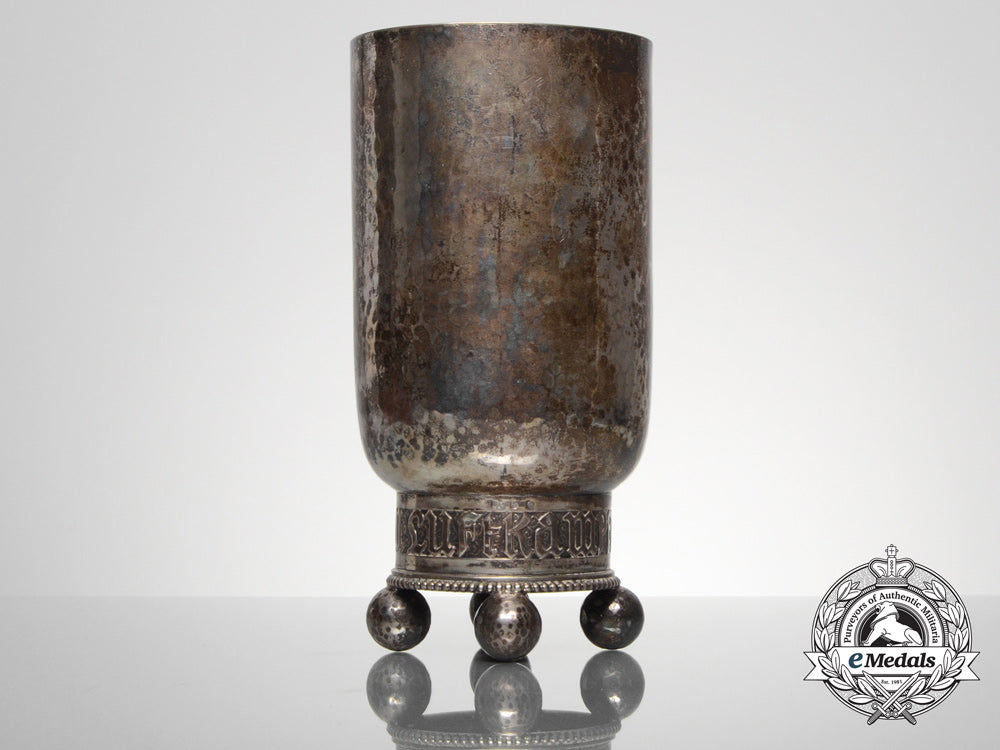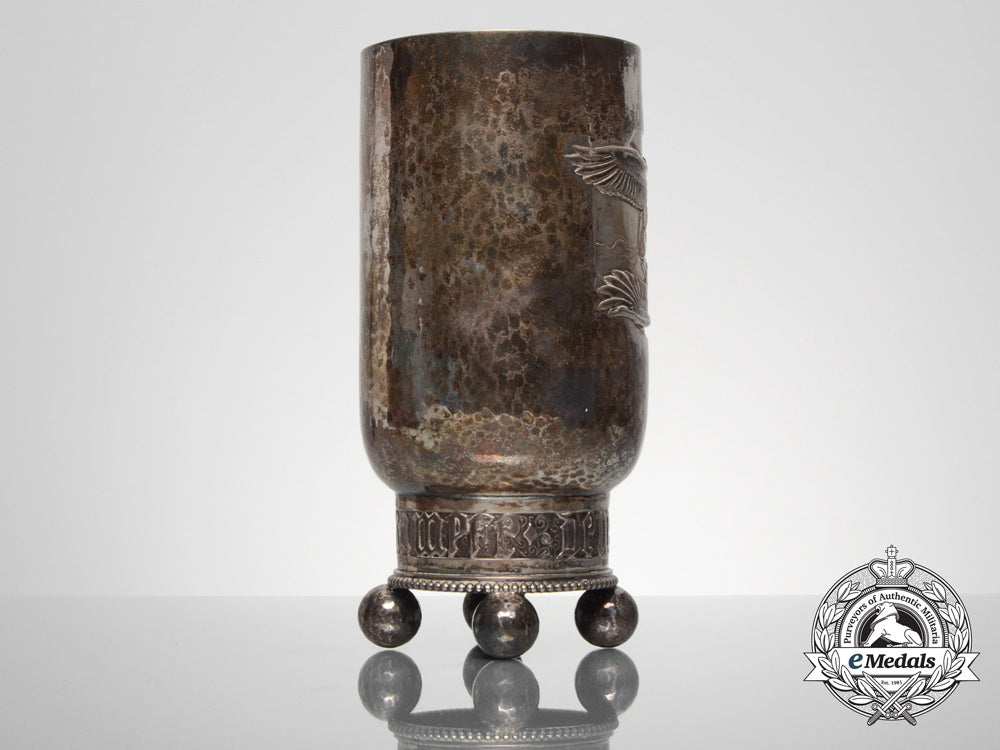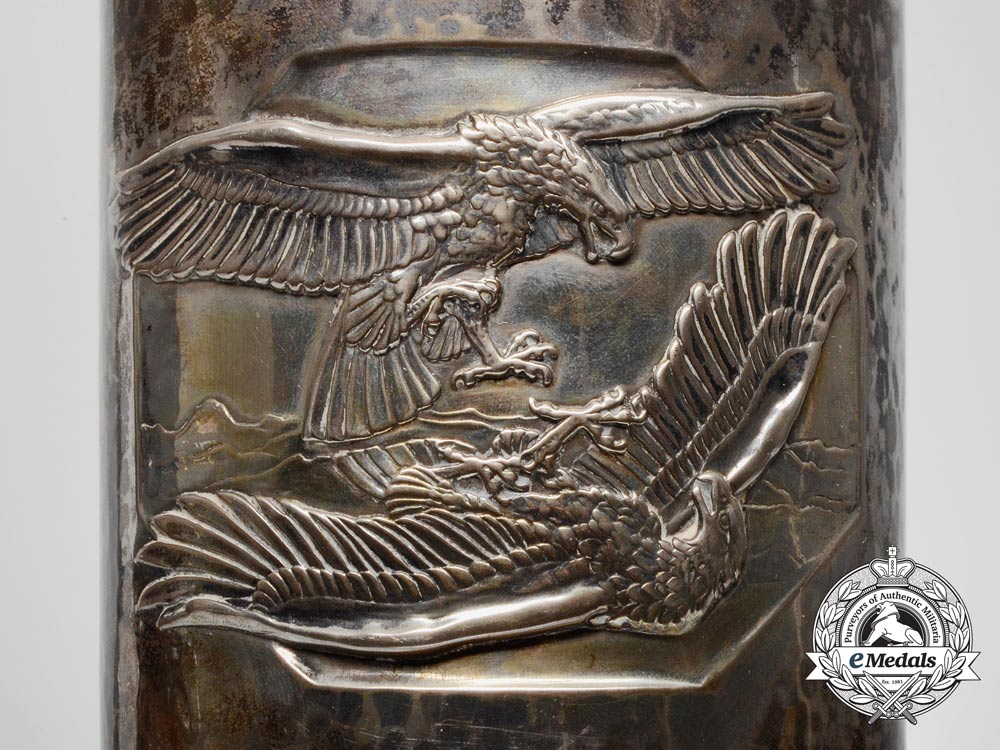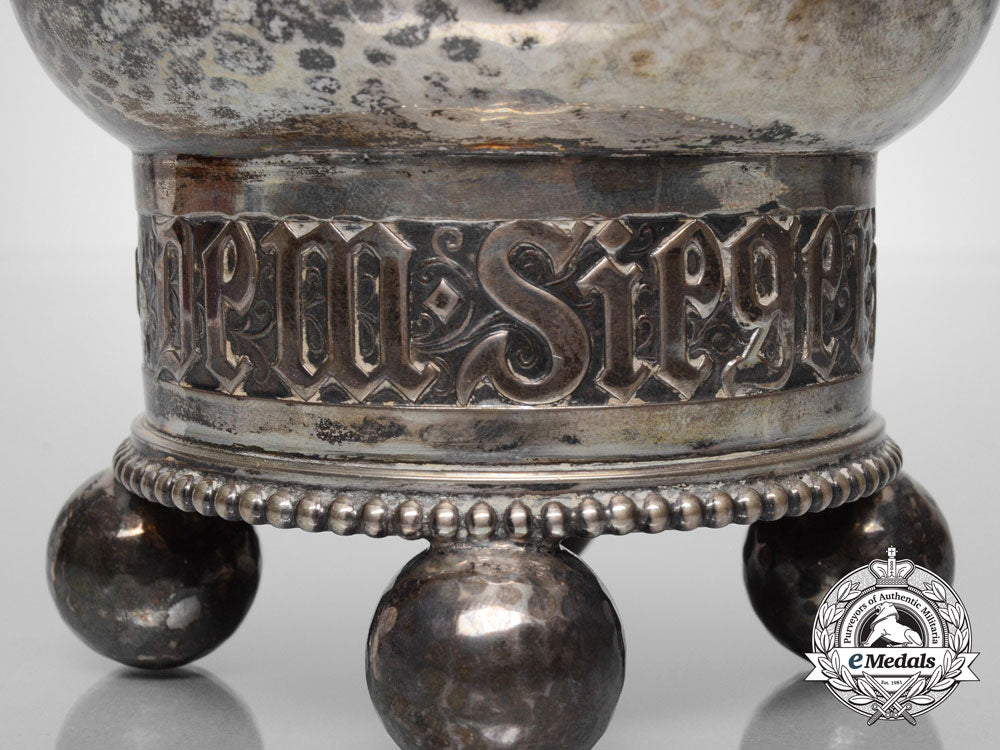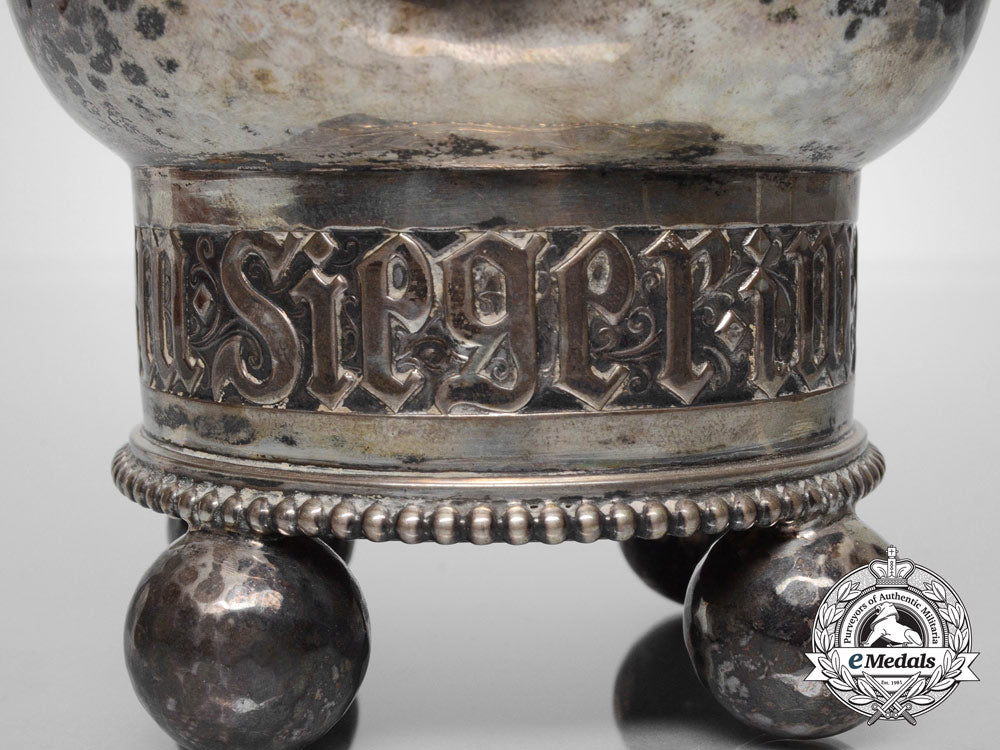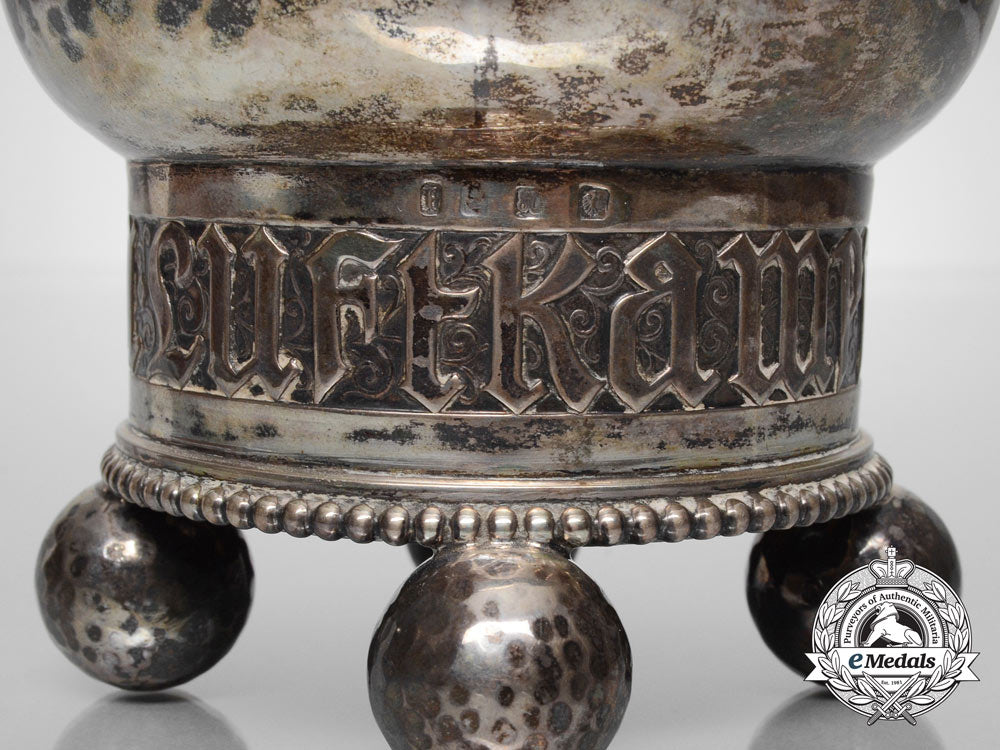 Choosing a selection results in a full page refresh.
Opens in a new window.